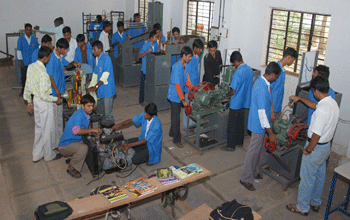 Mechanical Engineering is based upon its three building blocks i.e. Design Engineering, Manufacturing Engineering and Thermal Engineering. Tools, techniques, processes, controls and equipments have undergone enormous changes for achieving efficiency, higher productivity, better quality, easy maintenance. Developments in Electronics, Computer Science and Mechanical Engineering have lead to generation of a spectrum of new technologies, addressing Mechanical Engineering as mechatronics. Therefore, to meet the requirements of appropriately trained manpower in Mechanical Engineering, for dynamically changing.
Facilities & Infrastructure
The department has well equipped laboratories with state-of-the-art equipment, advanced machining center, Workshop, Mechanical Engineering, Strength of material, material science, measurement & metrology, kinematics, dynamics of machines, vibrations, refrigeration & air conditioning, heat and mass transfer etc.
K N ERANNA B.E
H.O.D
MES Polytechnic, Madhugiri
Following labs come under Mechanical Engg. Deptt.
1. Applied Mechanics Lab
2. Material Science Lab
3. Strength of Materials Lab
4. Hydraulics and Pneumatics Lab
5. Thermodynamics-I & Thermodynamics -II Lab
6. Automobile Engg Lab
7. Refrigeration & Air-conditioning Lab
8. MI Lab
9. CNC Lab
10.Theory 0f Machine Lab
Employment Opportunities
Govt. Departments:
PWD
B&R
Railway
Military engineering services
Boards and corporations
Transportation
Thermal plants
Now a days mechanical engineering diploma holders do find good opportunities in Army Navy and & Air force.
Industry: Though the Diploma holders of this line find placement in all functional areas like R & D, planning, shop floor production,, quality control, inventory management but majority of them find employment in shop floor management.
Machine Tool Industry
Automobile Industry
Other fields:
Marketing
Sales and after sales service
As an entrepreneur
Teaching organizations (polytechnics, vocational institutes etc)