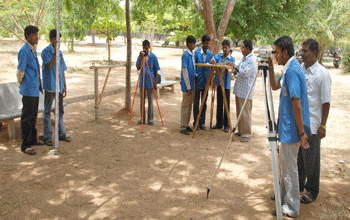 The Civil Engineering program is designed to develop knowledgeable and creative engineers with strong capabilities for innovation and management. Civil Engineering under graduates have a wide variety of employment opportunities in both the private and public sectors in addition to becoming successful entrepreneurs. The Department of Civil Engineering of MES POLYTECHNIC COLLEGE is excellently suited to meet the ever changing requirements of engineers and the department ensures not only that the courses are updated at par with national level institutes but also that they reflect the current needs of commerce, industry and the society as a whole.
G.A.NAGENDRA PRASAD B.E
H.O.D
MES Polytechnic, Madhugiri
APC proudly has an experienced and dedicated faculty with an industrial experience in the civil engg department.
Following labs come under Civil Deptt.
1. Fluid Mechanics
2. Applied Mechanics
3. Surveying – I & II, III
4. Construction Material
5. Building Construction
6. Concrete Technology
7. Highway Engineering
8. Structural Mechanics
9. Soil and Foundation Engineering
10. Water Supply and Waste Water Engineering
11. Building Drawing
12. Irrigation Engineering Drawing
Employment Opportunities
Civil engineers may specialize as chief civil engineers, construction engineers, municipal engineers, structural engineers, transport engineers, or water supply distribution engineers.
Civil and public health engineers may work in the private sector as consulting engineers, project managers or construction contractors or in a wide range of government departments.
Work opportunities for civil engineers are affected by fluctuations in the building and construction industry. As a result, the number of opportunities may rise or fall over a short period of time.
Prestigious civil engineering projects such as express highway, Railway project, large dams and various bridges, water Resources and Environmental Projects, Transportation/Traffic in India and abroad require Civil Engineers.
Teaching/Research/Management