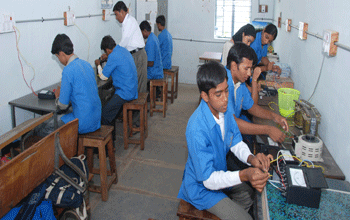 The Electrical Engineering Department of the institute has all facilities available for the students. Education as a key in the post globalization era can become effective only if it is wedded to the technological advances. The department is adequately equipped to provide requisite technological inputs for the industry and it offers excellent opportunities to its students to work on the latest problems related to the industry.
The manufacturing activities are undertaken in which both staff and students are involved. Emphasis is laid to utilize the men, machines of the department during project work hours (for final year).
KRISHNAPPA, D B.E
H.O.D
MES Polytechnic, Madhugiri
WORKING LABORATORIES
Basic Electrical Engg. Lab
Electrical Workshop Practice-I Lab
Electrical Workshop Practice-II Lab
Fundamental of Electrical Engg. Lab
Electrical Machines–I lab.
Electrical Measurements and Instruments lab.
Electrical Machine – II lab.
Minor Project lab
Electrical Power – II lab.
Major Project lab
Elements of Electrical and Electronics Engineering lab.
Electrical Machine lab.
Industrial Electronics and Control of Drives lab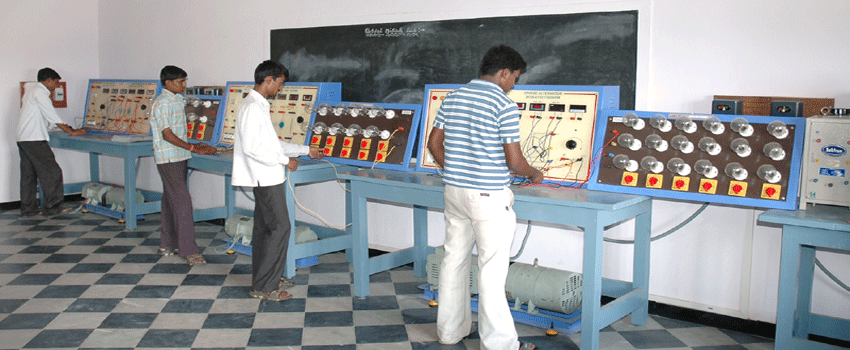 SEMINAR
Seminars for the benefit of the students are conducted periodically and The students take quite keen interest in these seminars which give them the latest know how of technological advancements.
JOB OPPORTUNITIES
Govt. Departments:
Electricity Board
Railways
MES
PWD
Airports
Defence
Thermal, hydro and nuclear power stations
Other fields:
Diploma holders are involved in the following activities
Executive and supervisory control in power stations or sub-stations, transmission and distribution networks.
In the field of Generation, Transmission and Distribution of Electrical power.
Operation and maintenance of equipments, lines, fault location, planning and designing of simple distribution schemes, Installation, maintenance and repair of a variety of electrical equipment.
In the fields of Hospitals
Firms dealing in the field of Meters and manufacturing and sale of variety of electrical equipment
Private IndustriesTeaching
Commercial complexes
Hotels, tourist-resorts
Cinema/theater halls etc
Self employment:
Trading of electrical goods
Establishing repair and maintenance unit/centers