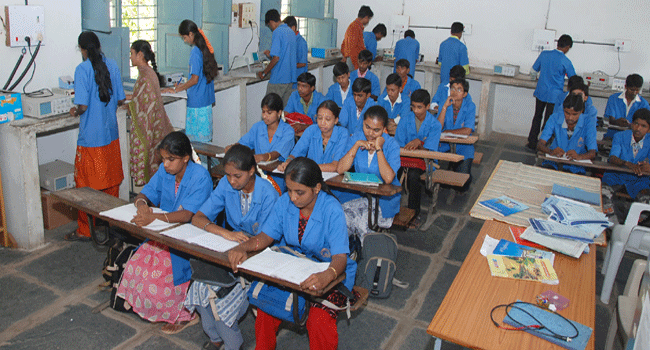 The Department of has well-equipped labs fitted with the latest kit and most advanced equipment's within easy reach so as to give our students practical hands on experience. A regular upgrading of the equipment's is an on-going process so as to enable our students to keep pace with the amazing development. This enables the department to disseminate desired knowledge to the aspirants in a broader prospective.
Guest Lectures are organized regularly on personality development, confidence-building, communication skills, group discussions etc. to help the students to develop a rounded personality and to develop themselves to be a precious asset to any organization they choose to join.
M L VENU, B.E
H.O.D
MES Polytechnic, Madhugiri
Department of Electronics and Communication Engineering :
Electronics and Communication Engineering has emerged one of the major areas of engineering due to revolutionary research and technological developments in the area of electronics. The department offers a stimulating environment for its students to do their project work and to identify and seek solutions to the problems of industries. A student passing out of this department will have the ability to build, motivate and lead project teams effectively and will have the confidence to solve complex technical problems and organizational issues.
Basic Electronics Lab
Basic Electrical and Electronics Lab
Analog Electronics Lab
Digital Electronics Lab
Computer concepts Lab
Analog Communication Lab
C-Programming Lab
Microprocessor lab
PCB Design Lab
PE & PLC Lab
PC servicing & network Lab
Project Work
Semiconductor Device Lab
MAT Lab
CASP lab
ARM Controller Lab
VHDL Lab
Employment Opportunities
Govt. Departments:
Electronic Exchanges
Department of Telecommunications
Doordarshan
Parsar Bharti
BSNL
Railways
Electricity Board
Defence
Radar and wireless
Industry:
Industries manufacturing Electronics & Communication systems, PCB components, Computers and other electronic equipments
Commercial organizations providing services, in repair & maintenance of Electronics & Computers
Computer assembling and computer peripheral industry
Medical electronics industry
Consumer electronics industry
Instrumentation and control industries
Other fields:
Teaching (polytechnics and vocational institutes)
Sales and service of electronics gadgets
Hospitals
Marketing and Sales Executives
Self employment:
Electronics Engg. Diploma holders may even start their own venture with a very little investment.
Repair and maintenance of electronic gadgets
Cable laying and jointing
Preparing simulating models