About T V Venkataswamy I T I

Sri T V Venkataswamy Industrial Training Institute, Madhugiri, TumkurDistrict was established in the year 2002 with the mission to promote and provide quality technical education at all levels to the student community in general and the rural youth in particular. It has earned a special place among students as well as parents community because of its qualitative training and 100% placement opportunities. The Institute is affiliated to NCVT, New Delhi with Two trades (Fitter, Turner).
The aim is to provide quality technical training to the youth, at the base level. In order to achieve sustainable growth, it is necessary to;impart quality technical training, which is the basic need of Industry. The Industrial Training Institute like ours would provide skilled man power at grass root level to meet the ever growing need of industry and society. Such training would also enhance employment potential in the country and help to increase quality, productivity to meet the global competitiveness. The institute has been provided with necessary infrastructure such as well-equipped laboratories, class rooms, library, and other facilities as well as dedicated staff. At present two trades namely Fitter and Turner have been started, to meet the demand of the industry and, society.
Vision & Mission, Goals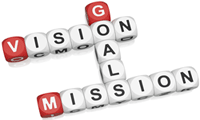 Our Vision
Quality based base level technical Training as an important tool to provide equitable and sustainable industrial growth.
Enhancing quality employment growth with focus on service sector.
Mitigation of barriers to impart technical training towards skill development in a broader scale.
Eradication of social inequality with regard to gender, economic status and religion.
Our Mission
Providing quality technical education at grass root level.
Prepare youth to become best citizens in the service of the country.
Help industry in enhancing their productivity by utilizing the skilled man power.
Providing social security through employability of the trained personnel.
Our Goals
To develop world class skilled workers in different trades for the industry to raise the quality and quantity of industrial production by systematic training with a highly developed infra structure excellent faculty to provide a state of art in training and learning.